Super Compact + Premium Quality Fridge / Freezer
One of our best fridges, is also our smallest.
The 15 litre Roadie really is best in class. It has an extensively modified and Bushman approved cooling system to reduce energy consumption, which will save you power and increase the life of your compressor.
With a unique 31cm tall interior, the Roadie is also small enough to fit almost anywhere, but big enough to hold everything you need for a long drive. You can even stand up 1.25L soft drink bottles, champagne and wine bottles.
The perfect centre console style fridge freezer to keep close and handy in your 4WD, RV, car, truck or agricultural equipment. The Roadie is backed up by a full 3 year warranty and lifetime support from Bushman approved workshops Australia wide.
And yes, you can use the Roadie as a dedicated freezer too.
---
---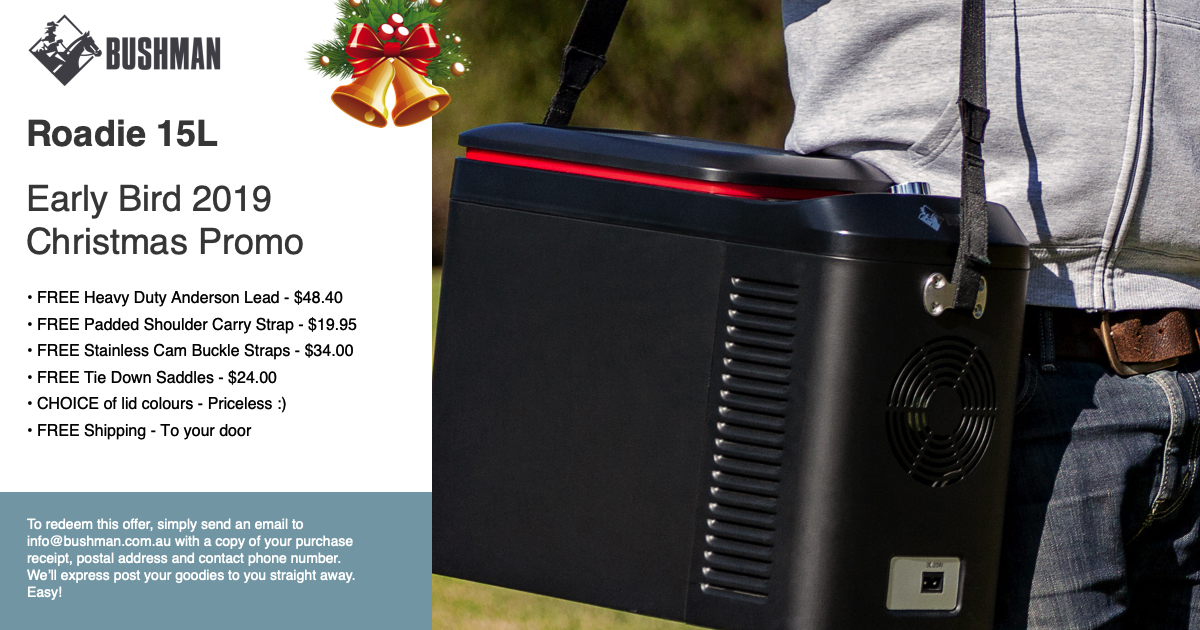 Bushman Reliable

Full 3 Year Warranty
Local Australian quality control
Nidec Danfoss compressor
Custom soft rubber feet absorb vibrations
Extra ventilation reduces heat to increase compressor life
Powder-coated steel cabinet

Light on Power

Custom and oversize ventilation on the front and sides
Wire on tube condenser for faster heat release and to reduce dust build up
Average 0.58 Amp/hr over 24hrs (25º ambient, 4º fridge, 12V system)
Genuine Bushman approved cooling system
Modified thermostat settings and software

Easy to Use

15 Litre overall capacity
Taller design 380mm high to accomodate 1.25L soft drink bottles
Insulated drink holders to keep your drinks cooler
Narrow design to fit anywhere
Magnetic lid seal
Reversible lid hinges
Set temperature range -18º to 10º
Operates up to a 30º angle
10 A built in fuse
Nidec Danfoss BD1.4VSD
Variable speed drive compressor
Length 535mm
Width 220mm
Height 380mm
Weight 10kg
Low current cut in 10.9V, cut out 9.6V
Lid liner available in Ice White, Evolution Red and Lightning Yellow