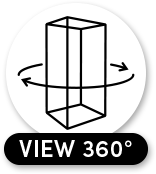 Original Bushman Fridge SC35-52
35L to 52L Camping Fridge - 12V / 240V
$

1,495
Free Shipping Australia Wide
In stock - Despatched within 24 hours
– 10L extension collar
– 7L dome lid
– 3 stacking baskets
– 240V – 12V adapter
– 4 Heavy duty tie-down brackets
–  Standard 12V cigar lead
+ Free transit cover
Since 1998 our customers have thrown everything at this fridge. Rain, hail, sunshine, and it's still going strong.
If you want a fridge that's extremely light on power and proven reliable for more than 2 decades in Australia, look no further. The Original Bushman Fridge stands the test of time, 20 years and counting.
Bushmans unique 35L – 52L extension kit is included. So you can adjust the fridge from 35L to 45L and right up to 52L. There's separate areas for your frozen food, fridge items, crisper and tall bottles. And the 3 stacking baskets make it easy to access food that's on the bottom.
The extension kit is the best way to get more from your portable fridge investment.  It's one of a kind, and only available from Bushman.
Independent Awards Winner – Best Portable Fridge 2017 + 2018 + 2019 + 2020 + 2021 + 2022
"If you only ever buy one fridge, this is the one."

Proven Reliability

Over 20 years of use in Australia
Nidec Danfoss BD35 compressor
German designed / Japanese owned
Full steel cabinet
5 Year warranty

Outstanding Efficiency

Genuine Bushman designed cooling system
360º ventilation top, bottom & 3 sides
Wire on tube condenser gets heat out faster
Average 0.67 Ah in 52L (set at -4º in 25º ambient)

Easy to Use

Use as a fridge only in 35L, 45L or 52L
Use as a freezer only in 35L or 45L
Use with 3 cooling zones in 52L
3 Internal stacking baskets
Simple digital thermostat
Heavy duty tie-down points
Side opening lids
Superior 360º Ventilation

We all know hot air rises. Top, bottom and side vents let the heat out easily. This is the secret to efficiency.

3 Cooling Spaces

The bottom of your fridge is always colder than the top, so work with it. Three internal stacking baskets create varying temperature zones and provide room to stand up large bottles.

A fridge like no other

Adjust the fridge volume to suit your needs. 35L for everyday use, 45L for a weekend away, or 52L for extended trips. The choice is yours.
360° Product View
Set temperature range

-18º to 10º

Average power consumption

0.67 Ah in 52L (set at -4º in 25º ambient)

Current draw

Variable speed compressor (2A - 4.5A)

Low voltage cut-out

10.4 V

Length

690mm

Width

385mm

Heights

35L 380mm, 42L 475mm, 45L 465mm, 52L 545mm

Weight in 35L

22.5kg