How to choose the right size battery and solar panels for a 12V fridge
A quick guide to get you headed in the right direction.
BATTERY & SOLAR PANEL SIZING CHART FOR BUSHMAN FRIDGES
This guide will give you 3 days running with absolutely zero sunshine and a maximum battery discharge of 60%.
The solar panels are sized to charge your batteries back to 100% after a full day of sunshine, perfect.
For lithium batteries you will only need 60% of the AGM Ah capacity shown below.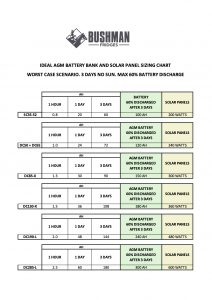 Our top selling 12V fridges
Original Bushman Fridge SC35-52

35L to 52L Camping Fridge - 12V / 240V

View Product

BUSHMAN DC85-X

85L Caravan Fridge - 12V / 24V

View Product

BUSHMAN DC190L

190L Caravan Fridge - 12V / 24V

View Product