How to Choose the Right Battery & Solar for a 12V Fridge
A quick guide to get you headed in the right direction.
The best way to power a camping fridge or freezer
If you're travelling to a remote location without access to a powered site or mains power, or are living off-grid, there are several different ways to keep your 12V camping / caravan fridge or freezer running. Here are the most common ways to power your fridge or freezer when you don't have access to a reliable power source.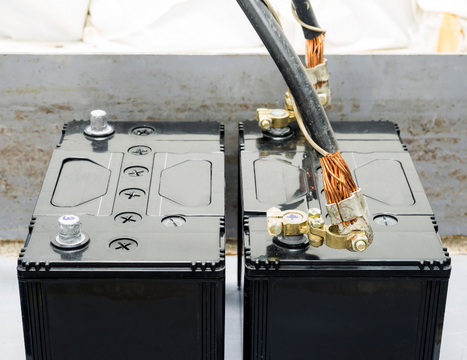 Battery power
Your 12V portable or caravan fridge or freezer is designed specifically to run directly from a 12V battery, or a bank of 12V batteries. Here's what to look for when choosing the right battery set up for your fridge.
Size: Consider the size of your fridge and look to see how much power, measured in amp hours (Ah) it will use over a 24 hour period. Think about how many days you would like the fridge to be able to operate from your battery without charging (usually minimum 3 days or 72hours). From here you can start to calculate the size of battery needed.
Battery Bank: A battery bank is simply two or more batteries connected together to provide more power (Ah). For example 2 x 120Ah batteries joined together into a battery bank would equal 240Ah.
Cost: Depending on the size you decide to purchase, a small 120Ah AGM style battery will cost around $400, and you can easily spend up to $1200 or more for a larger 300 Ah AGM battery bank.
Setup: When paired with a 12V compressor fridge , a 12V battery bank is the perfect companion for any situation; off-grid living, camping, travelling, caravans, boats and RVs.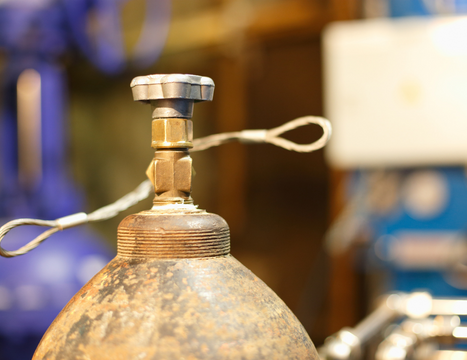 LP Gas
Fridges that run on LP gas are commonly used in remote areas or areas with no mains power. LPG gas fridges don't need any electricity and only need a single gas bottle to run efficiently.
Lifespan: A gas fridge can operate for weeks or months at a time from a single LPG gas bottle and they will work in all climates. LP gas fridges are designed for freestanding use only, so if you're looking for a fridge for your caravan, RV or other vehicle we recommend you consider a 12V compressor fridge.
Cost: A 2-door gas fridge will cost around $2000 – $2500
Usage: The best way to use a gas fridge is for fixed off-grid living.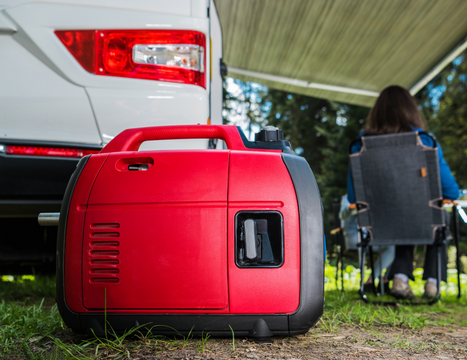 Generator power
A portable generator can be used to provide you with power to run your fridge or freezer when there's no other power source. Generators operate on fuel such as petrol or diesel. While they can be a reliable provider of alternative power, they can be costly to run and some are noisy.
When you setup your generator, the best way to use it is to power a smart battery charger from the generator, and use the batetery charger to top up your battery bank. This way you can simply keep your fridge running from your battery bank all the time.
When selecting a generator, consider the following to help you decide what's right for you.
Type of power output: We always recommend a pure sine wave generator, as these provide a more stable power supply.
Cost: A small (1000 Watts), high quality 240V generator will cost around $1500. You will need to pair this with a smart battery charger for around $400.

Usage: Ideally a generator is used to recharge a 12V battery bank. This way your fridge continues to operate from your 12V battery at all time and the generator can be used only when needed.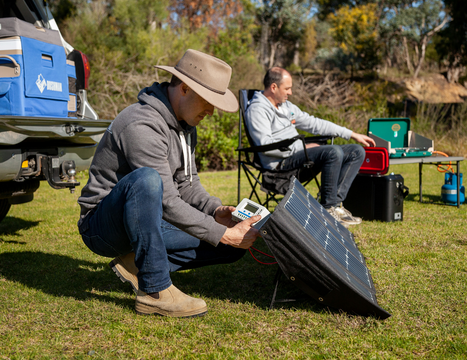 Solar Panels
For longer term camping, traveling and off-grid living where no 240V power supply is available, a solar panel system is a must-have to keep your battery bank charged and your fridge running non-stop.
Usage: Solar systems are the perfect companion for any situation where 240V power is not available. The size of the solar panels you need will match to the size of your battery bank.
Cost: The price of a solar system can vary greatly. From much less than $1000 for a 200W solar blanket or 200W hard solar panel to power your small portable fridge, up to $1500 or more for a 600W system to power a large 200L+ upright fridge.
Battery and solar panel sizing chart for bushman 12V fridges
We have put together a handy guide below to help you calculate the right solar panel and battery size you'll need to power your Bushman 12V fridge. This guide will provide at least three days running power with absolutely zero sunshine and a maximum battery discharge of 60%. For lithium (LiFePO4) batteries you will only need 70% of the absorbed glass mat (AGM) battery capacity in Ah.
The solar panels selected are sized to charge your batteries back to 100% after a full day of sunshine. As a rule of thumb, we recommend slightly less than double the AGM amp hours (Ah) of battery storage compared to watts of solar. This means a 100 Ah AGM (70Ah LiFePO4) battery would have approximately 200 watts of solar.
See the below chart for the recommended battery and solar panel size needed depending on your Bushman fridge model.
| | | | | | | |
| --- | --- | --- | --- | --- | --- | --- |
| Fridge | 1hr (Ah) | 1 Day (Ah) | 3 Days (Ah) | AGM battery size (60% discharge after 3 days) | LiFePO4 battery size (90% discharge after 3 days) | Solar Panels |
| SC35-52 | 0.8 | 20 | 60 | 100 Ah | 80 Ah | 200 W |
| DC50-X | 1.0 | 24 | 72 | 120 Ah | 80 Ah | 200 W |
| DC65-X | 1.0 | 24 | 72 | 120 Ah | 80 Ah | 200 W |
| DC85-X | 1.3 | 30 | 90 | 150 Ah | 100 Ah | 300 W |
| DC130-X | 1.5 | 36 | 108 | 180 Ah | 120 Ah | 300 W |
| DC190-L | 2.0 | 48 | 144 | 240 Ah | 160 Ah | 400 W |
| DC230-X | 2.4 | 57 | 172 | 260 Ah | 200 Ah | 400 W |
All values are approximate. If anything, we over estimate the amount of battery and solar you will need.
Wire sizing chart for Bushman 12V fridges
All 12V / 24V DC Bushman fridges need a minimum wire thickness depending on the length of wire as measured from the fridge compressor to your battery terminals. Our preferred measure for wire size is American Wire Gauge (AWG), or cross section in mm2.
Please refer to the below chart for minimum wire thickness.
| | | | |
| --- | --- | --- | --- |
| Max length in metres (12V) | Max length in metres (24V) | American wire gauge (AWG) | Cross section in MM2 |
| 1.8m | 3.6m | 16 | 1.25 |
| 2.5m | 5m | 14 | 2.6 |
| 4m | 8m | 12 | 4 |
| 6m | 12m | 10 | 6 |
| 10m | 20m | 8 | 10 |
Our top selling 12V fridges
Ready to get started on your off-grid adventures? Here's some of our top selling 12V fridges that can be paired with solar panels and a battery setup to operate even in remote locations.
Original Bushman Fridge 35-52L

35L to 52L Camping Fridge - 12V / 240V

Bushman DC85-X

85L Caravan Fridge - 12V / 24V

Bushman DC190L

190L Caravan Fridge - 12V / 24V